OUR MISSION
A material handling equipment business built on honesty and integrity, that treats its customers and employees with dignity, respect with an ethical responsibility to always practice quality over quantity for absolute customer satisfaction.
Alliance Material Handling
Your Everything Forklift Team
Many years of experience walks through the doorways here at Alliance. Looking back, it's easy to see how Alliance became a successful full line material handling provider. It's the people. Hi, I am Kevin Kern, President of Alliance Material Handling in Phoenix, Arizona and this is a little history on how Alliance started.
It started back in 1996 when my business partner founded Forklift Solutions, Inc. I went to work with him in 2003 as a field service technician and we instantly hit it off. I continued that career path and was promoted to shop foreman. Later, I was promoted to the Service Manager position where I gained a great deal of knowledge about how a dealership functions as a whole.
In 2010 it was time again to move up the "corporate ladder". I was offered an "Alliance" with my partner and I excitedly accepted a new path in life. So Alliance Material Handling was born, and I became the Vice President of Operations. In 2020, I, my beautiful wife, Michelle, and yes Levi, (our awesome Golden Retriever, who has his own Instagram Page: life_of_mr_levi), purchased Alliance Material Handling and allowed my wonderful partner to retire and do the things he had been dreaming about for a very long time with his wife and family.
As I think back to 1988 starting out in an automotive repair career, I am reminded that I didn't get here on my own. Family, Friends, Customers and the people who work at this fine company have surrounded me and helped in Alliance's success. Alliance continues to operate under a specific mission statement where relationships with customers, colleges, friends and family mean more than just doing business everyday.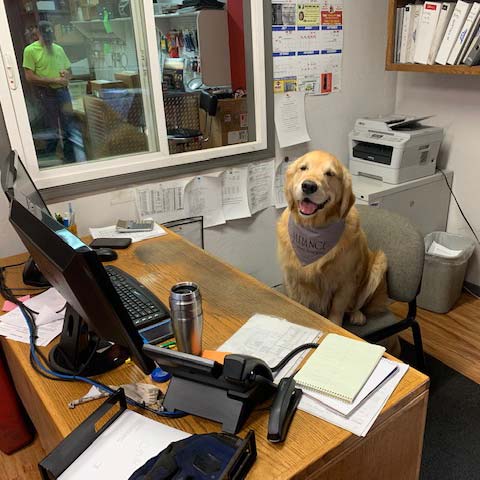 How Can We Be Of Service?