PHOENIX FORKLIFT DEALER SINCE 1996
Affordable Used Forklifts For Sale in Phoenix
LARGE INVENTORY AT DISCOUNTED PRICES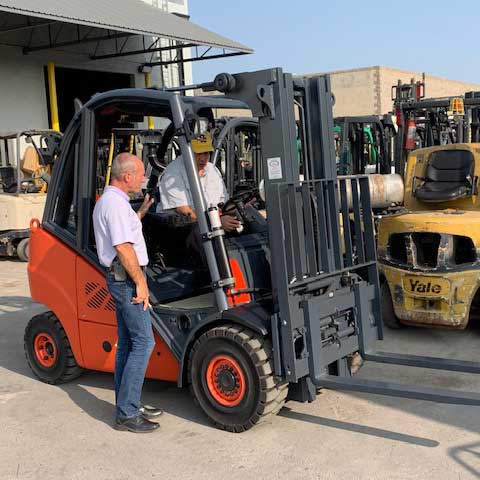 Pre-Delivery Walk-Around Inspection For Your Total Satisfaction and Quality Assurance
We Provide A
Warranty

On Our Used Forklifts

Our used forklifts don't just have a pretty paint job. We take pride and use our experience to identify weak points on each lift and repair them as needed. This enables us to Warranty the lift truck for your peace of mind and ours as well. We don't want to chase problems so we get it done right the first time. We have many in stock and our inventory is constantly being updated, so give us a call or contact us for pricing and availability.
Forklift Rental Purchase Program

– Take A Test Drive

Our intention is to match the lift truck to your particular application at a fair price and an honest appraisal of its condition. If you're not sure what your needs are try our Rental Purchase Program with 100% of the first months rent to apply. Contact us for details.
On A Budget? Buy AS-IS For Even More Savings!
Electric Forklifts
Pallet Jacks
 – Manual & Electric
Walkie Stackers – Straddle and Non-Straddle
Narrow Aisle Reach / Narrow Aisle End Control
Order Pickers
3 and 4 Wheel Sit Down Electrics
Piggy Back – 5000 lb capacity
Internal Combustion Forklifts
LPG • Gas • Diesel
Warehouse Tire LPG (3,000 – 5,500 lbs)
Warehouse Tire LPG (6,000 – 12,000 lbs)
Air Tire (3,000 – 5,000 lbs)
Air Tire (6,000 – 10,000 lbs)
Air Tire (12,000 lbs and Up)
Rough Terrain Lifts
Straight / Vertical Mast Lifts – 6,000 lb Capacity
Shooting Boom Style Lifts – 8,000 lb Capacity
Articulating & Telescopic
Scissor Lifts
Electric
Engine Powered
Rough Terrain